TRIBUTE TO JEAN-CLAUDE MEYER
---

---
A jealously
guarded secret
for 12 years
SINGLE MALT WHISKY 12 YEARS OLD
Limited edition of 53 first carafes
---
A jealously guarded secret for 12 years.
---
A great achievement signed by the creator of the Alsatian Whisky Meyer'S. A forerunner, a visionary, who leaves us in legacy his know-how.

Its recipe is unique, made from malted barley. Distilled in unique pot stills in Alsace, this single malt is refined in the best casks of the Bordeaux vineyard.

A unique Whisky in its crystal case with perfect lines, which makes the most beautiful tribute to its creator, Jean-Claude Meyer.
---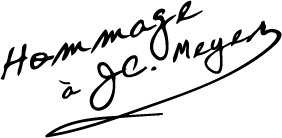 TRIBUTE TO JEAN-CLAUDE MEYER
A unique Whisky